Guidelines for Canadian Drinking Water Quality: Guideline Technical Document – Lead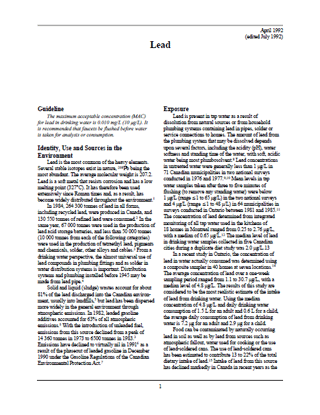 Organization: Health Canada
Type: Guidelines
Date published: 1992-04
Guideline
The maximum acceptable concentration (MAC) for lead in drinking water is 0.010 mg/L (10 µg/L). It is recommended that faucets be flushed before water is taken for analysis or consumption.
Identity, Use and Sources in the Environment
Lead is the most common of the heavy elements. Several stable isotopes exist in nature, 208Pb being the most abundant. The average molecular weight is 207.2. Lead is a soft metal that resists corrosion and has a low melting point (327°C). It has therefore been used extensively since Roman times and, as a result, has become widely distributed throughout the environment.Footnote 1
In 1984, 264 300 tonnes of lead in all forms, including recycled lead, were produced in Canada, and 130 550 tonnes of refined lead were consumed.Footnote 2 In the same year, 67 000 tonnes were used in the production of lead acid storage batteries, and less than 50 000 tonnes (10 000 tonnes from each of the following categories) were used in the production of tetraethyl lead, pigments and chemicals, solder, other alloys and cables.Footnote 3 From a drinking water perspective, the almost universal use of lead compounds in plumbing fittings and as solder in water distribution systems is important. Distribution systems and plumbing installed before 1945 may be made from lead pipe.Footnote 4
Solid and liquid (sludge) wastes account for about 81% of the lead discharged into the Canadian environment, usually into landfills,Footnote 5 but lead has been dispersed more widely in the general environment through atmospheric emissions. In 1982, leaded gasoline additives accounted for 63% of all atmospheric emissions.Footnote 5 With the introduction of unleaded fuel, emissions from this source declined from a peak of 14 360 tonnes in 1973 to 6500 tonnes in 1983.Footnote 3 Emissions have declined to virtually nil in 1991Footnote 6 as a result of the phaseout of leaded gasoline in December 1990 under the Gasoline Regulations of the Canadian Environmental Protection Act.Footnote 7
Exposure
Lead is present in tap water as a result of dissolution from natural sources or from household plumbing systems containing lead in pipes, solder or service connections to homes. The amount of lead from the plumbing system that may be dissolved depends upon several factors, including the acidity (pH), water softness and standing time of the water, with soft, acidic water being most plumbosolvent.Footnote 8 Lead concentrations in untreated water were generally less than 1 µg/L in 71 Canadian municipalities in two national surveys conducted in 1976 and 1977.Footnote 9Footnote 10 Mean levels in tap water samples taken after three to five minutes of flushing (to remove any standing water) were below 1 µg/L (range ≤1 to 65 µg/L) in the two national surveys and 4 µg/L (range ≤1 to 48 µ/L) in 64 municipalities in surveys conducted in Ontario between 1981 and 1985.Footnote 11 The concentration of lead determined from integrated monitoring of all tap water used in the kitchens of 18 homes in Montreal ranged from 0.25 to 2.76 µg/L, with a median of 0.65 µg/L.Footnote 12 The median level of lead in drinking water samples collected in five Canadian cities during a duplicate diet study was 2.0 µg/L.Footnote 13 In a recent study in Ontario, the concentration of lead in water actually consumed was determined using a composite sampler in 40 homes at seven locations.Footnote 14 The average concentration of lead over a one-week sampling period ranged from 1.1 to 30.7 µg/L, with a median level of 4.8 µg/L. The results of this study are considered to be the most realistic estimate of the intake of lead from drinking water. Using the median concentration of 4.8 µg/L and daily drinking water consumption of 1.5 L for an adult and 0.6 L for a child, the average daily consumption of lead from drinking water is 7.2 µg for an adult and 2.9 µg for a child.
Food can be contaminated by naturally occurring lead in soil as well as by lead from sources such as atmospheric fallout, water used for cooking or the use of lead-soldered cans. The use of lead-soldered cans has been estimated to contribute 13 to 22% of the total dietary intake of lead.Footnote 15 Intake of lead from this source has declined markedly in Canada in recent years as the use of cans with lead solder has been phased down by the food processing industry. Based on recent analyses of lead in food in a national market basket study, the intakes of lead from food have been estimated to be 1.1 µg/kg bw per day for children aged one to four years and 0.75 µg/kg bw per day for adults.Footnote 16 This represents a drop of 56% between 1985 and 1989 for children.
Annual geometric mean concentrations measured at more than 100 National Air Pollution Surveillance (NAPS) stations across Canada have declined steadily from 0.74 µg/m3 in 1973 to <0.1 µg/m3 (the detection limit) in 1991,Footnote 6Footnote 17 paralleling the decrease in the use of lead additives in gasoline to their phaseout in December 1990. Some sampling stations in a few Canadian cities still record measurable concentrations of lead in air (e.g., Vancouver, Edmonton, Calgary, Toronto, Hamilton, Montreal), but average concentrations in these cities are not above 0.1 µg/m3. It is difficult to estimate the current average intake of lead from air, as geometric mean concentrations, although well below the detection limit, are not measurable. Intakes for a two-year-old child and an adult have been estimated to be 0.36 and 1.2 µg/d, respectively, based on NAPS data using one-third the detection limit with a sampling height correction factor of 2.Footnote * Soils and household dust are significant sources of lead exposure for small children.Footnote 20Footnote 21 In 1973, in Toronto homes not near point sources, average lead concentrations were 110 µg/g in garden soil and 845 µg/g in household dust.Footnote 22 There are no recent data for lead concentrations in household dust in urban Canadian homes. Lead in soil and lead in outdoor air are the main contributors to lead in household dust in Canada. Based on Toronto data, average concentrations of lead in soil and air have declined by 43% and 76%, respectively, between 1973 and 1984, or 3.9% and 6.9% per year, respectively.Footnote 17Footnote 23Footnote 24 Using these data,Footnote * the concentration of lead in household dust in urban communities can be estimated to be 350 µg/g in 1984 and 140 µg/g in 1990, assuming no airborne lead and a further reduction of 24% for lead in soil between 1984 and 1990.
Other sources of lead intake include ceramic ware, activities involving arts and crafts, peeling paint and renovations resulting in dust or fumes from paint.Footnote 25 No allowance has been made for the contribution of lead from these sources, because they occur on a highly sporadic basis and because no quantitative data are available. It has been pointed outFootnote 25 that old paint has been an important source of excess lead intake for inner-city children living in older housing stock in the United States. This may not be as important in Canada as in the United States, because Canada's stock of older housing is smaller relative to the total stock available. However, these sources, as well as occurrences of high lead concentrations in drinking water in some older houses, can be extremely important for a small number of children.
Total intakes and uptakes of lead from all sources are shown in Table 1 for children and adults in urban areas. The relative contribution of water to average intake is estimated to be 9.8% and 11.3% for children and adults, respectively. Total intake of lead from three of the four major sources--air, food and dust--appears to have dropped significantly since the mid-1980s as a result of regulatory and voluntary actions to control lead from air (via gasoline) and food (via cans). For young children, average daily intake is calculated to be about 29 µg/d, down from 70 µg/d calculated on the basis of 1984 to 1986 data, and is now below the intake of 48 µg/d for a two-year-old based on the World Health Organization's (WHO) provisional tolerable weekly intake (PTWI) of 25 µg/kg bw, equivalent to approximately 3.5 µg/kg bw per day.Footnote 26
Table 1. Total intake

Table 1 footnote

a and uptake

Table 1 footnote

b of lead (µg/d)
Child (two years
old, 13.6 kg)
Adult (70 kg)
Medium
Concentration
Intake
(%)
Uptake
(%)
Intake
(%)
Uptake
(%)
Air
0.06 µg/m3
0.36
(1.2)
0.14
(1.1)
1.2
(1.9)
0.48
(7.1)
Water
4.8 µg/L
2.9
(9.8)
1.45
(11.6)
7.2
(11.3)
0.72
(10.7)
Food
Various
15.0
(50.9)
7.5
(60.2)
52.5
(82.4)
5.25
(78.0)
Dust, dirt
140 µg/g
11.2
(38.0)
3.36
(27.0)
2.8
(4.4)
0.28
(4.2)
Total
29.5
12.5
63.7
6.7
Analytical Methods and Treatment Technology
Atomic absorption spectrometry (AAS) may be used to determine concentrations of lead and other metals in water. Detection limits of less than 1 µg/L can be achieved;Footnote 12 however, practical quantitation limits (PQLs) are usually 1 to 3 µg/L during routine monitoring studies.Footnote 11 Inductively coupled plasma atomic emission spectrometry (ICP-AES) is frequently used in routine monitoring analyses, because of speed, relative freedom from interference by other components in the sample and lower cost per analysis. This technique is preferable to AAS when multi-element analysis is required. The detection limit is 1 to 2 µg/L and the PQL is about 7 to 10 µg/L.Footnote 29 Because the maximum acceptable concentration (MAC) for lead in drinking water is intended to apply to average concentrations in distributed water, sampling should be carried out on flushed samples at the point of consumption.
Conventional water treatments, including settling, aluminum sulphate (alum) or ferric sulphate coagulation and filtration are reasonably effective in removing lead from treated drinking water. Lime softening at elevated pH is also effective in removal of lead. However, because the majority of lead in drinking water is introduced after leaving the treatment plant as a result of leaching from materials in the distribution system or household plumbing, corrosion control is a more effective method of preventing high concentrations of lead at the point of consumption. Adjustment of the pH from less than 7 to 8 or 9 and moderate increases in alkalinity, measured as carbonate, to more than 30 mg/L reduce the plumbosolvency of acidic waters and minimize leaching.Footnote 30Footnote 31 Corrosion inhibitors such as zinc orthophosphate or silicate-based inhibitors may also be added. Although water treatment can reduce tap water lead concentrations substantially, water treatment alone may be inadequate to reduce lead to concentrations below 10 µg/L when water is supplied through leaded distribution systems and lead concentrations are high.Footnote 32 Other effective methods of treatment, which are also suitable for home use, include reverse osmosis and ion exchange using a strong acid cation resin; activated adsorption has also been reported to be effective in some cases.
Classification and Assessment
The evidence for the carcinogenicity of lead in humans is inconclusive, because of the limited number of studies, the use of small cohorts leading to lack of statistical power and a lack of consideration of confounding variables. An association has been shown in animals between the ingestion of lead salts at high doses and renal tumours. Lead has been classified in Group IIIB--possibly carcinogenic to humans (inadequate data in humans, limited evidence in animals), according to the classification scheme of the Environmental Health Directorate of the Department of National Health and Welfare.
For compounds classified in Group IIIB, the acceptable daily intake (ADI) is derived on the basis of division of the NOAEL or LOAEL in humans or in animals by appropriate uncertainty factors, taking into account the equivocal evidence of carcinogenicity. For lead, there is also evidence from human studies that adverse effects other than cancer may occur at very low levels, and that a guideline derived for these effects would also be protective for the risk of carcinogenic effects.
The WHOFootnote 26 established a provisional tolerable weekly intake (PTWI) for lead for children of 25 µg/kg bw, equivalent to an ADI of approximately 3.5 µg/kg bw per day. This PTWI was established on the premise that lead is a cumulative poison and that there should be no increase in the body burden of lead from any source, thus avoiding the possibility of adverse biochemical and neurobehavioural effects in infants and young children. It was based on metabolic studies in infantsFootnote 36Footnote 51 showing that a mean daily lead intake of 3 to 4 µg/kg bw was a NOAEL and was not associated with an increase in blood lead levels or in the body burden of lead, whereas a daily intake of 5 µg/kg bw or more resulted in lead retention. An unusually small uncertainty factor (less than 2) reflected the conservatism of the end point, the quality of the metabolic data and use of one of the most susceptible groups in the population.
Rationale
Because lead is classified in Group IIIB, the MAC for lead in drinking water is derived from the ADI as follows:

  

Figure 1: The Equation Used for Calculating the Maximum Acceptable Concentration (MAC) for Lead in Drinking Water- Text Description

The maximum acceptable concentration for lead is 0.008 milligram per litre. This value is calculated by dividing 0.6 litre per day by the product of the following factors: 0.0035 milligram per kilogram body weight per day, 13.6 kilograms of body weight, and 0.098.
where:
0.0035 mg/kg bw per day is the ADI, as derived above
13.6 kg bw is the average body weight of a two-year-old child
0.098 is the proportion of total daily intake allocated to drinking water, taken from Table 1, showing recent average intake data.

Footnote

14 Intake of lead from sources other than water has decreased substantially over the last few years because of the phasedown of the use of lead-soldered cans in the food industry and the phaseout of lead additives in gasoline, processes that are now almost complete
0.6 L/d is the average daily water consumption for a two-year-old child.

Footnote

127
The PQL for routine analysis of lead in drinking water is 1 to 10 µg/L, depending on other compounds that may also be present in some water supplies. Because the MAC should be measurable and achievable at reasonable cost, the MAC selected is 10 µg/L, or 0.010 mg/L, based on this PQL.
Because the MAC for lead is based on chronic effects, it is intended to apply to average concentrations in water consumed for extended periods; short-term consumption of water containing lead at concentrations above the MAC does not necessarily pose undue risk to health.
In order to minimize exposure to lead introduced into drinking water from plumbing systems, it is also recommended that only the cold water supply be used, after an appropriate period of flushing to rid the system of standing water, for analytical sampling, drinking, beverage preparation and cooking.